Trenderhoof

Trenderhoof in the inventory.

Discoverer of destinations, explorer of the unexplored and really, REALLY handsome, Trenderhoof is one of Equestria's greatest travel writers.
Playable?
Yes
Town
Canterlot
Cost/Prize
Win from Crystal Mine Game at 716,000 points

Level
20
Arrival bonus
50
House
Trenderhoof's House
Minigame timer
140m(2h 20m)
Minigame timer skip
4
Trenderhoof on the MLP:FiM wiki
Trenderhoof is a male unicorn pony who wears white glasses and a sweater. He lives in Trenderhoof's House in Canterlot.
Trenderhoof was introduced in the March 2014 version 1.8 update and is only available from the Crystal Mine Game (requires 716000 pts). A bug in the game prevents players from receiving Tenderhoof even if they have rightfully earned him through the game.
Collections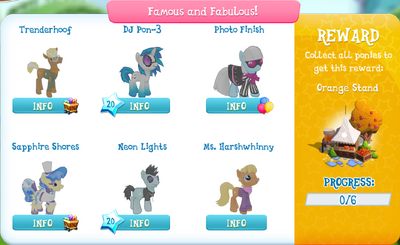 Characters
‌
Mane Six (The Elements of Harmony)
Ponyville
Canterlot
Sweet Apple Acres
Crystal Empire
Klugetown
Non-playable
Removed
Unimplemented/Unreleased