Traveling Mare


Traveling Mare in the store.
Left: locked; right: unlocked.

This beauty-foal pony always feels like she's forgotten something, like her suitcase or train ticket!
Playable?
Yes
Level
21
Town
Ponyville
Arrival bonus
65
House
The Hearthbreak Hotel
Minigame timer
260m (4h 20m)
Minigame timer skip
7
Cost/Prize
250
Royal Balloon Pop
Traveling Mare on the MLP:FiM wiki
Traveling Mare is a pony who lives in Ponyville. She stays at The Hearthbreak Hotel with Traveling Gentlecolt and Traveling Pony. She was added in v2.6 update.
Balloon Pop
Collection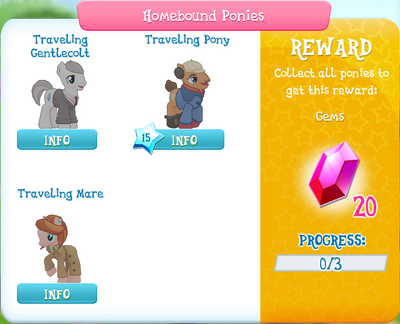 Gallery
Characters
‌
Mane Six (The Elements of Harmony)
Ponyville (309 Characters)
Canterlot (136 Characters)
Sweet Apple Acres (93 Characters)
Crystal Empire (43 Characters)
Klugetown (40 Characters)
Non-playable
Removed
Unimplemented/Unreleased