Sunshower


Sunshower in the store.
Left: locked; right: unlocked.

Sunshower's cutie mark might be rain, but this pretty Pegasus won't rain on your parade!
Playable?
Yes
Level
28
Town
Ponyville
Arrival bonus
65
House
Cloudsdale Mane-or
Minigame timer
280m (4h 40m)
Minigame timer skip
7
Cost/Prize
Limited-time collection reward
Royal Balloon Pop
Sunshower on the MLP:FiM wiki
Sunshower is a Pegasus pony living in Cloudsdale Mane-or in Ponyville. She was added in v2.6 update. She was first introduced as a limited time collection reward for completing Homebound Ponies and later can be won in Balloon Pop.
Balloon Pop
Collection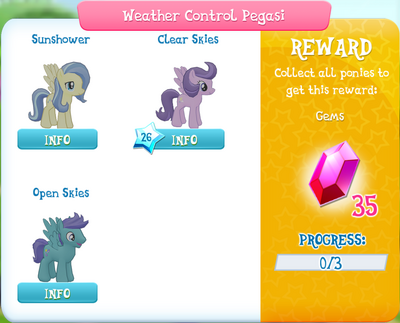 Characters
‌
Mane Six (The Elements of Harmony)
Ponyville (309 Characters)
Canterlot (136 Characters)
Sweet Apple Acres (93 Characters)
Crystal Empire (43 Characters)
Klugetown (40 Characters)
Non-playable
Removed
Unimplemented/Unreleased