Sugar Belle

Sugar Belle in the inventory.

Sugar Belle's a unicorn who's brilliant at baking! ... After she got her cutie mark, anyway. Without it, Pinkie Pie thinks her baking tastes worse than cardboard...
Playable?
Yes
Level
20
Town
Canterlot
Arrival bonus
80
House
Cutie Castle
Minigame timer
240m (4h)
Minigame timer skip
6
Cost/Prize
Daily Reward (day 7)

Sugar Belle on the MLP:FiM wiki
Sugar Belle is a unicorn pony who lives in Cutie Castle in Canterlot. She was released as part of the v2.5 update.
Sugar Belle can be obtained as a daily login reward.
Collection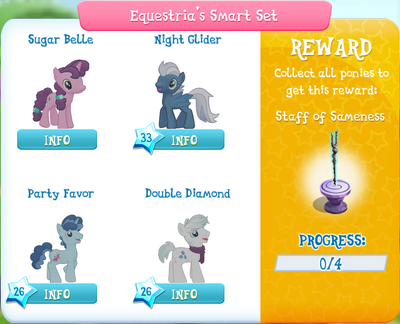 Characters
‌
Mane Six (The Elements of Harmony)
Ponyville
Canterlot
Sweet Apple Acres
Crystal Empire
Klugetown
Non-playable
Removed
Unimplemented/Unreleased