Soarin

Soarin in the store.

A male member of Equestria's daredevil flying team, Soarin loves Applejack's apple pies.
Playable?
Yes
Town
Ponyville
Cost/Prize
150
Equestria Girls
Level
1
Arrival bonus
350
House
Wonderbolts Academy
Minigame timer
190m(2h 10m)
Minigame timer skip
5
Involved in quests
"Talented Flyers"P
Soarin on the MLP:FiM wiki
Soarin is a member of the Wonderbolts and lives at the Wonderbolts Academy. 
His purchase is required for the quest "Talented Flyers"P, with no skip option available. 
Soarin costs 150 

, and occasionally goes on sale for 50% off. A glitch patched in December's Hearth's Warming update allowed players to purchase him for bits by disabling their external wireless connection. When the game was first released, he cost 450

.
Soarin, mistakenly identified as Fleetfoot, was one of the characters available in the beta version of My Little Pony presented at My Little Pony Project 2012 New York, at a cost of 67,500
. Surprise, mistakenly identified as Soarin, was also included in the beta at a cost of 275

.
Collection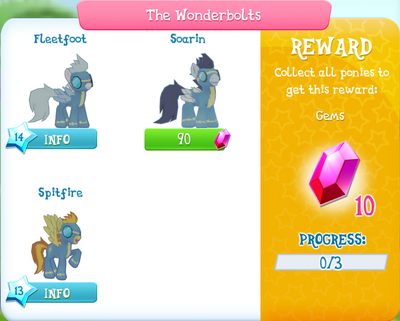 Characters
‌
Mane Six (The Elements of Harmony)
Ponyville
Canterlot
Sweet Apple Acres
Crystal Empire
Non-playable
Removed
Unimplemented/Unreleased
Ad blocker interference detected!
Wikia is a free-to-use site that makes money from advertising. We have a modified experience for viewers using ad blockers

Wikia is not accessible if you've made further modifications. Remove the custom ad blocker rule(s) and the page will load as expected.