Scootaloo


Scootaloo in the store.
Left: locked; right: unlocked.

One of the Cutie Mark Crusaders, along with Apple Bloom and Sweetie Belle, who idolizes fellow Pegasus pony Rainbow Dash.
Playable?
Yes
Town
Sweet Apple Acres
Cost/Prize
30
Equestria Girls
Level
15
Arrival bonus
350
House
Cutie Mark Crusaders Clubhouse
Minigame timer
75m(1h 15m)
Minigame timer skip
2
Quests

Quest tasks

"Get Along, Li'l Pony"P
"Café Talk"P
Scootaloo on the MLP:FiM wiki
Scootaloo is a filly pegasus pony and one of the Cutie Mark Crusaders. In game, she lives in the Cutie Mark Crusaders Clubhouse in Sweet Apple Acres. She has to be welcomed and raised to three stars to complete "Get Along, Li'l Pony"P, and assigned to three shops to complete "Café Talk"P. Prior to the Sweet Apple Acres update, she lived in Ponyville.
Cost
Scootaloo cost 50

 when the game was first released but was dropped down to 30

in the Movie Time Update. She costs 50

when offline. She is unlocked at Level 11.
Collection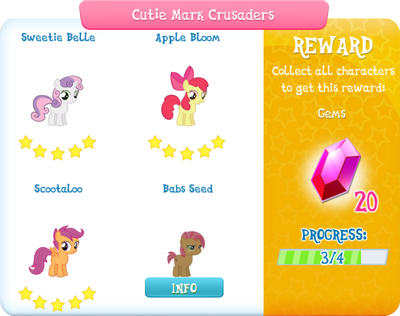 Gallery
Characters
‌
Mane Six (The Elements of Harmony)
Ponyville
Canterlot
Sweet Apple Acres
Crystal Empire
Klugetown
Non-playable
Removed
Unimplemented/Unreleased