Snappy Scoop

Snappy Scoop in the inventory.

He always finds plenty of newsworthy sources, from the gentlest of colts to the wildest of horses!
Playable?
Yes
Level
?
Town
Ponyville
Arrival bonus
60
House
The Darkroom
Minigame timer
4h 30m
Minigame timer skip
7
Cost/Prize
Call For Backup Collection Reward

Snappy Scoop on the MLP:FiM wiki
He was added in Update 3.0.
Collection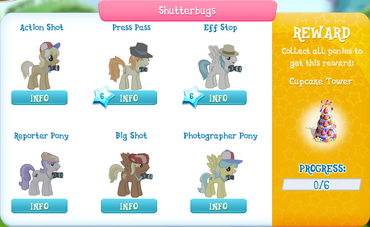 Characters
‌
Mane Six (The Elements of Harmony)
Ponyville
Canterlot
Sweet Apple Acres
Crystal Empire
Klugetown
Non-playable
Removed
Unimplemented/Unreleased