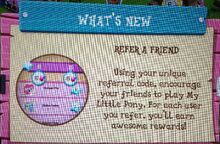 Refer A Friend is a feature that was added in Update 2.7 to the Social portion of the game. "REFER A FRIEND: Bring your friends to Equestria to earn awesome rewards!" In the FAQ section of the Gameloft support site, the feature is explained as follows:
To invite your friend to the game, you should give your friend code to another person who has not played the game before. He/she has to install the game and then enter your friend code in the referral section of the Friends tab in the game after completing the tutorial.
It should be stressed that a referral is very different than a game invitation where you yourself enter someone's
Friend code
to add them to your Friend list.
How it Works
How it works is that you tell someone to download the game and when that person does decide to download the game, once he passes the tutorial he will be prompted a box asking if he got invited. In this text box, he would need to put in your friend code, so don't forget to give him/her it.
Now if you press cancel, you will see a referral at the top left right above Invited Players and you could put someone as your referral at anytime but be warned, you will need to do that before you reach Level 10 because if you reach that level and added no one as your referral, you would not ever be able to add anyone since that button will disappear.
Once someone does add you as their referral, you will get gems

as they progress through the game.
REMEMBER: You can only get invited players if they are starting or restarting the game.
You cannot add any players to the invited players section if they have passed Level 10 already.
Rewards
If you are inviting friends who are starting out with the game, you'll notice that you will get gem rewards whenever they attain a certain level:
Reward 1: When a friend reaches to Level 10, you get 10

.
Reward 2: When a friend reaches to Level 25, you get 15

.
Reward 3: When a friend reaches to Level 50, you get 20

.
Reward 4: When a friend reaches to Level 100, you get 25

.
VIP: When a friend spends real money and gets a Bronze VIP Crown, you will get 30

.
Gem Earning Advice
Adding Invited Players isn't easy. Because the Directory of Friends only covers Friend Codes, Mobile Devices and IDs and not Level Progression Numbers.
Unless if another directory is added for Players who are new to the game and adds a Level Progression Number list, it will be hard to find friend codes for players who are new to the game.
If you are a new player starting the game, and if you are looking to find friends to add to the Invited Players Section, use the comments section below to add not just your Friend Code, but also your Level Progression Number as well. But remember: you cannot add friends to the Invited Players section if he or she has reached or has already passed Level 10. You must add them before they reach Level 10.  
That being aside, if you do the math, for each friend you add, before they reach Level 10, and more importantly, for each of Levels shown above, you'll get a Grand Total of 70 Gems. (100 if he/she manages to buy something from the game itself)  
Contact Directory Keeper
There is no directory for players under Level 10. Please contact the Directory Keeper (editor) at mlpfrienddirectory@gmail.com to request a directory for one.
List of Players under Level 10
This is a list of Friend Codes containing Players who are under Level 10. Keep in mind that some of the friend codes may be temporary as players intend to Level Up to Level 10.
If you are a new player starting out the game, make sure you leave your Player Name and Friend Code in the comments below as well as informing that you are under Level 10.
If you are no longer under Level 10, please edit this article and change the "Y/N" setting to inform other players if you are no longer under Level 10.
| Player Name | Character | Friend Code | Under Level 10? (Y/N): | Level No. |
| --- | --- | --- | --- | --- |
| Princess Music | Princess Cadence | c505ca6 | No | - |
| | | | | |
| | | | | |