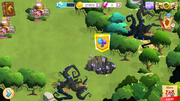 Purple Mushroom is a ingredient used to make Totems at Zecora's Hut in the Everfree Forest and was added in the Everfree Forest update. The purple mushrooms' color is purple and blue. It is also a poisonous mushrooms that cannot be eaten and be touched.
It respawns in Everfree Forest, the Purple Mushroom is next to Zecora's Hut, at the placing totems area.
Up to 5 may be held at any given time. They can be bought directly at Zecora's Hut for 1

if there is not enough for your mixture.
Resources

‌
Ingredients

Purple Mushroom
Ad blocker interference detected!
Wikia is a free-to-use site that makes money from advertising. We have a modified experience for viewers using ad blockers

Wikia is not accessible if you've made further modifications. Remove the custom ad blocker rule(s) and the page will load as expected.