Public Works Pony

Public Works Pony in the inventory.

This pony knows pipefitting's never a snooze -- and is always on time with his union dues.
Playable?
Yes
Town
Canterlot
Cost/Prize
Free

Level
VIP Level 5
Arrival bonus
55
House
Architecture Unicorn's Home
Minigame timer
270m(4h30m)
Minigame timer skip
7
Public Works Pony on the MLP:FiM wiki
Public Works Pony was added in Update v2.8 and you can get him for free if you get to VIP Level 5. He shares Architecture Unicorn's Home in Canterlot.
Collections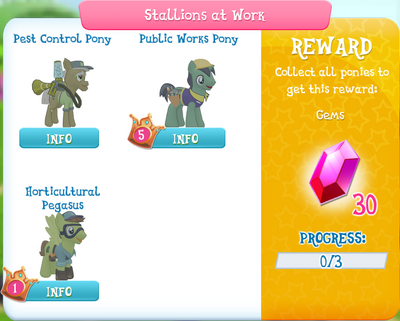 Characters
‌
Mane Six (The Elements of Harmony)
Ponyville
Canterlot
Sweet Apple Acres
Crystal Empire
Klugetown
Non-playable
Removed
Unimplemented/Unreleased