Promotions can come up at any time. It can be a Pony Promotion, Collection Reward, Limited Time Gem Balloon Pop Pony, Pop-up Pony, Flash Sale, or Store Promotion. Or even just a promo for normal game stuff like

Promotions were not made available in the Amazon Underground Actually Free Version of the Game.
Promo Sale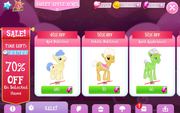 This is when they put Regular/Promo ponies or shops, or on special holidays, decor that can be bought at a cheaper price.
Collection Reward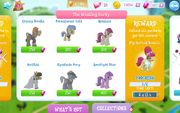 Collection book (under the collections tab), if you collect all the ponies in a collection you will get a reward for it and sometimes Gameloft will do a promo that raises the reward in any of them that they choose.
Limited Time Gem Balloon Pop Pony
This is when they offer ponies for a limited time in the Gem Balloon Pop for 10 times the chances.
Pop-up Pony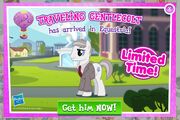 This means that a not normal pony (aka Promo or Special) arrives in the store for a limited time but not on sale.  It happens the most when a Limited Bundle pops up or What's Hot.
Promo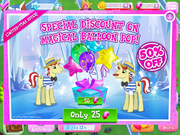 Sometimes the game just does simple promos where they reduce the cost of Gem

, or 3x chance something in Pony Editor
Flash Sale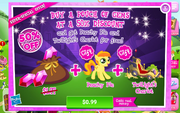 This can pop up at any time & can last up to 24hrs or less.  It will cost real cash. The sale is indicated by the "present" icon on the left of the game screen, and shows the time remaining to purchase. The items in the flash sale are also called a "bundle" and appear in the Bundles tab of the Store. A bundle in the Store looks like a treasure chest and have various names.
Store Promotion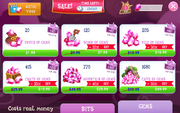 A Store Sale is when they discount gem or bit packs & it costs real cash.  Most of the time, it pops up on a holiday.
Gift Codes
Gift Codes, when redeemed, will provide a player with free items. They are infrequently published on the MLP Gameloft Facebook page, their Instagram account, or by email. On the game screen, access the Gift Code section by clicking on the Scroll (at Top Right), then scroll down to the bottom of the menu. Type in the codes before they expire.
Current Promotions
C= Character
S = Shop
D = Decor
See also
Ad blocker interference detected!
Wikia is a free-to-use site that makes money from advertising. We have a modified experience for viewers using ad blockers

Wikia is not accessible if you've made further modifications. Remove the custom ad blocker rule(s) and the page will load as expected.