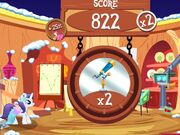 The Pony Editor is a feature that was added in Update 2.6 where the Mane Six can be dressed up in different costumes based on seasonal events such as Hearths Warming Eve and from the My Little Pony television series.
Similar to Balloon Pop, you can spend 5

to earn three different type of materials which are in separate boxes the game gives you that can be used to make these costume. Alternatively, you can get one box of materials for watching ads video.
Each costume can increase the points you earn in mini games such as Crystal Mine game and Clear the Skies. Also can increase income for tasks that you set the pony on. However, the pony can only wear one costume at a time and the cost to change each time is from 500

. It takes possibly over 3 minutes to change but you can spend gems to speed it up.
You get a costume for Twilight for free on your first visit which boost the income for

by 15% for any task that you set her on.
You can also mix and match costumes on the pony but however, bonuses may not apply due to multiple costumes that the pony is wearing at the same time.
The outfits with race flags are for bonus points when leveling up your pony (Apple Picking, Ball Bounce, Telescope Game). (Bottom picture, note the icon on the left side of the score).
The Masked Princess Twilight Sparkle costume is unavailable to be used unless Twilight has been ascended to an Alicorn.
This minigame is available on the Amazon Underground Version, but is not available on the normal Version of the game on Amazon.
Mane Six Costumes
Twilight Sparkle
Dress Bonus
Part
Materials
Dress Up Cost
None
Mane
None
500
Cloth
None
500
Tail
None
500
Dress Time
3m
Dress Skip
3
Note
Twilight Twinkle
Dress Bonus
Part
Materials
Dress Up Cost
+15% bits from shop
Mane
1
1
1
1,000
Cloth
1
1
1
1,000
Tail
1
1
1
1,000
Dress Time
45m
Dress Skip
3
Note
Night Sky
Dress Bonus
Part
Materials
Dress Up Cost
+25% minigame points
Mane
2
2
2
1,000
Cloth
1
3
2
1,000
Tail
2
2
2
1,000
Dress Time
1h
Dress Skip
3
Note
Sunshine Sparkle
Dress Bonus
Part
Materials
Dress Up Cost
+20% Crystal Mine points
Mane
1
4
2
1,500
Cloth
1
2
3
1,500
Tail
1
3
2
1,500
Dress Time
1h 30m
Dress Skip
9
Note
BOW-tiful
Dress Bonus
Part
Materials
Dress Up Cost
+50% minigame points
Mane
1
4
3
2,000
Cloth
2
2
4
2,000
Tail
2
4
3
2,000
Dress Time
1h 30m
Dress Skip
9
Note
Pretty in Purple
Dress Bonus
Part
Materials
Dress Up Cost
+25% Crystal Mine points
Mane
6
3
2,500
Cloth
2
4
4
2,500
Tail
1
5
3
2,500
Dress Time
2h 15m
Dress Skip
15
Note
Masked Princess Twilight Sparkle
Dress Bonus
Part
Materials
Dress Up Cost
+20% bits from shop
Mane
1
8
3
3,000
Cloth
1
6
5
3,000
Tail
1
7
4
3,000
Dress Time
3h
Dress Skip
18
Note
Can only be crafted when Twilight Sparkle has been ascended to an Alicorn
Clover the Clever
Dress Bonus
Part
Materials
Dress Up Cost
+30% Crystal Mine points
Mane
1
8
4
3,500
Cloth
1
6
5
3,500
Tail
None
500
Dress Time
2h
Dress Skip
12
Note
Twilight Cheer
Dress Bonus
Part
Materials
Dress Up Cost
+50% Mini-Game Points
Mane
1
8
6
3,000
Cloth
1
4
2
3,000
Tail
None
500
Dress Time
2h
Dress Skip
12
Note
Buy Set(Limited Time Outfits Only)
Mane
Cloth
Tail
Overall
50
90
-
140
Midnight Sparkle
Dress Bonus
Part
Materials
Dress Up Cost
+25% bits from shop
Mane
4
9
10
4,000
Cloth
3
13
8
4,000
Tail
6
11
9
2,500
Dress Time
5h
Dress Skip
30
Note
Buy Set(Limited Time Outfits Only)
Mane
Cloth
Tail
Overall
110
150
160
420
Cpt. Twilight
Dress Bonus
Part
Materials
Dress Up Cost
+30% Crystal Mine points
Mane
8
13
10
3,500
Cloth
2
10
5
3,500
Tail
None
500
Dress Time
3h
Dress Skip
18
Note
Buy Set(Limited Time Outfits Only)
Mane
Cloth
Tail
Overall
130
130
-
260
Big City Sparkle
Dress Bonus
Part
Materials
Dress Up Cost
+35% Crystal Mine points
Mane
2
6
11
4,500
Cloth
4
6
3
4,500
Tail
6
11
8
3,000
Dress Time
6h 30m
Dress Skip
39
Note
Buy Set(Limited Time Outfits Only)
Mane
Cloth
Tail
Overall
60
130
80
270
Royal Guard Sparkle
Dress Bonus
Part
Materials
Dress Up Cost
+35% Crystal Mine points
Mane
2
20
15
6,500
Cloth
3
14
10
7,500
Tail
None
500
Dress Time
8h
Dress Skip
45
Note
Buy Set(Limited Time Outfits Only)
Mane
Cloth
Tail
Overall
140
260
-
400
Pinkie Pie
Dress Bonus
Part
Materials
Dress Up Cost
None
Mane
None
500
Cloth
None
500
Tail
None
500
Dress Time
3m
Dress Skip
3
Note
Pinkie Party
Dress Bonus
Part
Materials
Dress Up Cost
+25% minigame points
Mane
1
3
2
1,500
Cloth
1
3
1
1,500
Tail
1
2
1
1,500
Dress Time
1h
Dress Skip
3
Note
Pinkie Pearls
Dress Bonus
Part
Materials
Dress Up Cost
+15% bits from shop
Mane
2
3
2
1,500
Cloth
1
4
2
1,500
Tail
1
3
2
1,500
Dress Time
1h
Dress Skip
3
Note
Perfection in Pink
Dress Bonus
Part
Materials
Dress Up Cost
+15% Crystal Mine points
Mane
1
5
3
2,000
Cloth
1
4
3
2,000
Tail
2
3
4
2,000
Dress Time
1h 30m
Dress Skip
9
Note
Tap-Tastic
Dress Bonus
Part
Materials
Dress Up Cost
+50% minigame points
Mane
2
5
3
2,500
Cloth
2
4
4
2,500
Tail
3
5
3
2,500
Dress Time
1h 30m
Dress Skip
9
Note
Pinkie Princess
Dress Bonus
Part
Materials
Dress Up Cost
+25% bits from shop
Mane
1
7
3
3,000
Cloth
3
4
5
3,000
Tail
1
9
2
3,000
Dress Time
2h 15m
Dress Skip
15
Note
Fili-Second Pinkie Pie
Dress Bonus
Part
Materials
Dress Up Cost
+25% Crystal Mine points
Mane
1
8
3
3,500
Cloth
2
8
3
3,500
Tail
2
7
4
3,500
Dress Time
3h
Dress Skip
18
Note
Chancellor Puddinghead
Dress Bonus
Part
Materials
Dress Up Cost
+30% minigame points
Mane
1
9
3
4,000
Cloth
2
8
5
4,000
Tail
None
500
Dress Time
2h
Dress Skip
12
Note
Pinkie Cheer
Dress Bonus
Part
Materials
Dress Up Cost
+35% Mini-Game Points
Mane
2
5
4
3,000
Cloth
1
7
5
3,000
Tail
None
500
Dress Time
2h
Dress Skip
12
Note
Buy Set(Limited Time Outfits Only)
Mane
Cloth
Tail
Overall
50
70
-
120
Pinkie Post
Dress Bonus
Part
Materials
Dress Up Cost
+30% bits from shop
Mane
2
4
6
3,500
Cloth
1
8
5
3,500
Tail
None
500
Dress Time
3h
Dress Skip
18
Note
Buy Set(Limited Time Outfits Only)
Mane
Cloth
Tail
Overall
50
70
-
120
Gen. Pinkie
Dress Bonus
Part
Materials
Dress Up Cost
+30% Crystal Mine points
Mane
5
10
10
4,000
Cloth
3
13
9
4,000
Tail
None
500
Dress Time
4h
Dress Skip
24
Note
Buy Set(Limited Time Outfits Only)
Mane
Cloth
Tail
Overall
120
140
-
260
Big City Pinkie
Dress Bonus
Part
Materials
Dress Up Cost
+50% Mini-Game Points
Mane
3
13
4
4,500
Cloth
4
6
5
4,500
Tail
6
10
5
3,000
Dress Time
6h 30m
Dress Skip
39
Note
Buy Set(Limited Time Outfits Only)
Mane
Cloth
Tail
Overall
70
130
110
310
Roller Derby Pinkie
Dress Bonus
Part
Materials
Dress Up Cost
+35% bits from shop
Mane
3
5
6
6,000
Cloth
2
10
10
4,500
Tail
None
500
Dress Time
4h 30m
Dress Skip
27
Note
Buy Set(Limited Time Outfits Only)
Mane
Cloth
Tail
Overall
70
130
-
200
Rarity
Dress Bonus
Part
Materials
Dress Up Cost
None
Mane
None
1,000
Cloth
None
1,000
Tail
None
1,000
Dress Time
3m
Dress Skip
3
Note
Summer Breeze
Dress Bonus
Part
Materials
Dress Up Cost
+25% minigame points
Mane
1
3
2
2,000
Cloth
1
5
1
2,000
Tail
1
3
1
2,000
Dress Time
1h
Dress Skip
3
Note
Inner Magic
Dress Bonus
Part
Materials
Dress Up Cost
+15% bits for shop
Mane
1
4
3
2,000
Cloth
1
4
3
2,000
Tail
2
3
2
2,000
Dress Time
1h 15m
Dress Skip
3
Note
Perfect Princess
Dress Bonus
Part
Materials
Dress Up Cost
+25% bits from shop
Mane
2
5
3
2,500
Cloth
1
5
3
2,500
Tail
2
4
3
2,500
Dress Time
1h 30m
Dress Skip
9
Note
A Rare Treat
Dress Bonus
Part
Materials
Dress Up Cost
+50% minigame points
Mane
1
6
3
3,000
Cloth
2
3
6
3,000
Tail
1
8
2
3,000
Dress Time
1h 30m
Dress Skip
9
Note
Belle of the Ball
Dress Bonus
Part
Materials
Dress Up Cost
+20% Crystal Mine points
Mane
8
4
3,500
Cloth
2
5
5
3,500
Tail
1
7
3
3,500
Dress Time
2h 15m
Dress Skip
15
Note
Radiance Rarity
Dress Bonus
Part
Materials
Dress Up Cost
+25% Crystal Mine points
Mane
2
9
3
4,000
Cloth
3
9
3
4,000
Tail
2
9
4
4,000
Dress Time
3h
Dress Skip
18
Note
Princess Platinum
Dress Bonus
Part
Materials
Dress Up Cost
+20% from shops
Mane
3
9
4
4,000
Cloth
2
6
6
4,000
Tail
None
1,000
Dress Time
2h
Dress Skip
12
Note
Razzle Dazzle
Dress Bonus
Part
Materials
Dress Up Cost
+50% Mini-Game Points
Mane
2
7
3
3,000
Cloth
1
4
2
3,000
Tail
None
1,000
Dress Time
2h
Dress Skip
12
Note
Buy Set(Limited Time Outfits Only)
Mane
Cloth
Tail
Overall
40
60
-
100
Detective Rarity
Dress Bonus
Part
Materials
Dress Up Cost
+25% Crystal Mine points
Mane
5
9
6
3,500
Cloth
2
5
3
3,500
Tail
None
1,000
Dress Time
3h
Dress Skip
18
Note
Buy Set(Limited Time Outfits Only)
Mane
Cloth
Tail
Overall
80
90
-
170
Noir Damsel
Dress Bonus
Part
Materials
Dress Up Cost
+25% from shops
Mane
10
20
9
3,500
Cloth
3
7
6
3,500
Tail
None
1,000
Dress Time
5h
Dress Skip
30
Note
Buy Set(Limited Time Outfits Only)
Mane
Cloth
Tail
Overall
170
180
-
350
Lt. Rarity
Dress Bonus
Part
Materials
Dress Up Cost
+30% Crystal Mine points
Mane
8
14
6
4,000
Cloth
3
10
5
4,000
Tail
None
1,000
Dress Time
4h
Dress Skip
24
Note
Buy Set(Limited Time Outfits Only)
Mane
Cloth
Tail
Overall
110
150
-
260
Big City Rarity
Dress Bonus
Part
Materials
Dress Up Cost
+30% Crystal Mine points
Mane
3
7
7
5,000
Cloth
4
10
5
5,000
Tail
7
6
7
3,500
Dress Time
6h
Dress Skip
36
Note
Buy Set(Limited Time Outfits Only)
Mane
Cloth
Tail
Overall
70
120
120
310
Mermaid Rarity
Dress Bonus
Part
Materials
Dress Up Cost
+50% Mini-Game Points
Mane
5
10
10
6,500
Cloth
2
15
12
7,000
Tail
None
1,000
Dress Time
4h
Dress Skip
24
Note
Buy Set(Limited Time Outfits Only)
Mane
Cloth
Tail
Overall
120
150
-
270
Applejack
Dress Bonus
Part
Materials
Dress Up Cost
None
Mane
None
1,000
Cloth
None
1,000
Tail
None
1,000
Dress Time
3m
Dress Skip
3
Note
An Apple Dream
Dress Bonus
Part
Materials
Dress Up Cost
+25% minigame points
Mane
1
4
1
2,500
Cloth
1
6
1
2,500
Tail
1
4
2
2,500
Dress Time
1h
Dress Skip
3
Note
Apple of Our Eyes
Dress Bonus
Part
Materials
Dress Up Cost
+50% minigame points
Mane
1
5
2
2,500
Cloth
1
5
2
2,500
Tail
2
2
4
2,500
Dress Time
1h
Dress Skip
3
Note
A Shawl Winner
Dress Bonus
Part
Materials
Dress Up Cost
+20% bits from shop
Mane
1
4
5
3,000
Cloth
3
6
2
3,000
Tail
1
5
2
3,000
Dress Time
1h 30m
Dress Skip
9
Note
Belle Bottom Beauty
Dress Bonus
Part
Materials
Dress Up Cost
+30% bits from shop
Mane
2
7
1
3,500
Cloth
3
2
6
3,500
Tail
3
6
3
3,500
Dress Time
1h 30m
Dress Skip
9
Note
Southern Belle
Dress Bonus
Part
Materials
Dress Up Cost
+20% Crystal Mine points
Mane
1
8
4
4,000
Cloth
1
6
5
4,000
Tail
1
7
5
4,000
Dress Time
2h 15m
Dress Skip
15
Note
Mistress Mare-velous Applejack
Dress Bonus
Part
Materials
Dress Up Cost
+25% Crystal Mine points
Mane
1
9
5
4,500
Cloth
2
9
4
4,500
Tail
2
9
4
4,500
Dress Time
3h
Dress Skip
18
Note
Smart Cookie
Dress Bonus
Part
Materials
Dress Up Cost
+30% Crystal Mine points
Mane
2
8
6
4,000
Cloth
3
7
5
4,000
Tail
None
1,000
Dress Time
2h
Dress Skip
12
Note
Frou Frou Frills
Dress Bonus
Part
Materials
Dress Up Cost
+50% Mini-Game Points
Mane
2
5
3
3,500
Cloth
1
6
2
3,500
Tail
3
6
4
3,000
Dress Time
3h
Dress Skip
18
Note
Buy Set(Limited Time Outfits Only)
Mane
Cloth
Tail
Overall
40
60
70
170
Country Queen
Dress Bonus
Part
Materials
Dress Up Cost
+25% Crystal Mine points
Mane
2
8
4
4,000
Cloth
2
6
4
4,000
Tail
3
6
4
3,500
Dress Time
4h 30m
Dress Skip
27
Note
Buy Set(Limited Time Outfits Only)
Mane
Cloth
Tail
Overall
50
90
70
210
Col. Applejack
Dress Bonus
Part
Materials
Dress Up Cost
+30% Crystal Mine points
Mane
5
12
10
4,500
Cloth
3
11
9
4,500
Tail
None
1,000
Dress Time
4h
Dress Skip
24
Note
Buy Set(Limited Time Outfits Only)
Mane
Cloth
Tail
Overall
120
160
-
280
Big City Jack
Dress Bonus
Part
Materials
Dress Up Cost
+25% from shops
Mane
3
11
9
4,500
Cloth
4
9
6
4,500
Tail
3
7
10
4,000
Dress Time
7h
Dress Skip
42
Note
Buy Set(Limited Time Outfits Only)
Mane
Cloth
Tail
Overall
80
130
90
300
Brave Lion Applejack
Dress Bonus
Part
Materials
Dress Up Cost
+35% from shops
Mane
3
5
10
5,500
Cloth
4
15
6
7,000
Tail
3
5
10
6,000
Dress Time
8h
Dress Skip
48
Note
Buy Set(Limited Time Outfits Only)
Mane
Cloth
Tail
Overall
80
140
90
310
Fluttershy
Dress Bonus
Part
Materials
Dress Up Cost
None
Mane
None
1,500
Cloth
None
1,500
Tail
None
1,500
Dress Time
3m
Dress Skip
3
Note
Sunshine Sister
Dress Bonus
Part
Materials
Dress Up Cost
+25% minigame points
Mane
2
3
1
4,000
Cloth
1
4
3
4,000
Tail
2
4
2
4,000
Dress Time
45m
Dress Skip
3
Note
Flutter-Fairy
Dress Bonus
Part
Materials
Dress Up Cost
+50% minigame points
Mane
1
4
2
4,000
Cloth
2
4
3
4,000
Tail
2
2
5
4,000
Dress Time
1h
Dress Skip
3
Note
Flights of Fancy
Dress Bonus
Part
Materials
Dress Up Cost
+20% bits from shop
Mane
4
3
4,500
Cloth
6
4
4,500
Tail
2
6
1
4,500
Dress Time
1h 30m
Dress Skip
9
Note
Butterfly Shy
Dress Bonus
Part
Materials
Dress Up Cost
+25% Crystal Mine points
Mane
1
8
1
5,000
Cloth
1
5
6
5,000
Tail
3
7
3
5,000
Dress Time
1h 30m
Dress Skip
9
Note
Peacock Perfection
Dress Bonus
Part
Materials
Dress Up Cost
+30% Crystal Mine points
Mane
1
8
4
5,500
Cloth
3
8
3
5,500
Tail
2
7
4
5,500
Dress Time
2h 15m
Dress Skip
15
Note
Saddle Rager Fluttershy
Dress Bonus
Part
Materials
Dress Up Cost
+30% bits from shop
Mane
2
9
4
6,000
Cloth
2
4