Parish Nandermane


Parish Nandermane in the store.
Left: locked; right: unlocked.

Part of a four-pony musical ensemble, Parish Nandermane is a very talented harp player with a unique playing style. His cutie mark is a lyre.
Playable?
Yes
Town
Canterlot
Cost/Prize
40
Equestria Girls
Level
20
Arrival bonus
200
House
Octavia's House
Minigame timer
120m(2h)
Minigame timer skip
3
Involved in quests
"Stay Classical, Canterlot"C
Parish Nandermane on the MLP:FiM wiki
Parish Nandermane is a musical pony from Canterlot. He lives in Octavia's House.
Collections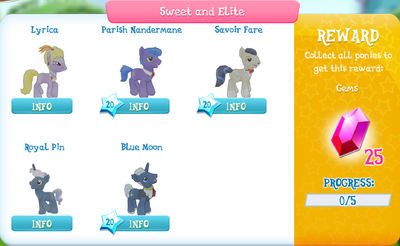 Characters
‌
Mane Six (The Elements of Harmony)
Ponyville
Canterlot
Sweet Apple Acres
Crystal Empire
Non-playable
Removed
Unimplemented/Unreleased