Moondancer


Moondancer in the store.
Left: locked; right: unlocked.

Moondancer is one beautiful pony, who started to think all friendship was phony. It was a story that could've been tragic, but with Twilight's help, she learned friendship is magic!
Playable?
Yes
Level
35
Town
Canterlot
Arrival bonus
110
House
Moondancer's Home
Minigame timer
360m(6h)
Minigame timer skip
9
Cost/Prize
500
Royal Balloon Pop
Moondancer on the MLP:FiM wiki
Moondancer is a unicorn pony who lives in Canterlot. She was added in Update 2.6.
Balloon Pop
Collection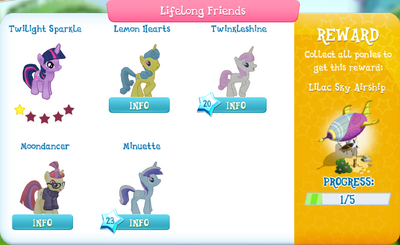 Characters
‌
Mane Six (The Elements of Harmony)
Ponyville (309 Characters)
Canterlot (136 Characters)
Sweet Apple Acres (93 Characters)
Crystal Empire (43 Characters)
Klugetown (40 Characters)
Non-playable
Removed
Unimplemented/Unreleased