Maud Pie is a member of the Pie family who lives in The Pie Family's Home in Ponyville. She was added in the Bugfix update. She is occasionally put on sale in the Ponyville store.
Maud was offered as a time-limited character along with Prim Hemline, Savoir Fare and Torch Song on the 2nd day of Pony Reunion Week in October 25–26, 2014, at a discount of 50% (68

).
She can also be obtained through events.
Balloon Pop
Collection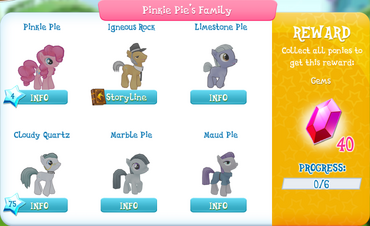 Gallery
Characters
‌
Mane Six (The Elements of Harmony)
Ponyville (336 Characters)
Canterlot (139 Characters)
Sweet Apple Acres (98 Characters)
Crystal Empire (48 Characters)
Klugetown (40 Characters)
Non-playable
Removed
Unimplemented/Unreleased