Lovestruck

Lovestruck in the store.

Lovestruck is a pony filled with the spirit of love! On Hearts and Hooves Day, she tries to fill everypony with love in their hearts.
Playable?
Yes
Town
Ponyville
Cost/Prize
215
Equestria Girls
Level
1
Arrival bonus
300
House
Lovestruck's House
Minigame timer
240m(4h)
Minigame timer skip
6
Quests

Quest tasks

"In Love With Ponyville"S
Lovestruck on My Little Wiki
Lovestruck was added in the Hearts & Hooves Day 2013 update and lives in Lovestruck's House in Ponyville. She issued the Hearts & Hooves Day 2013 and 2014 quests; the final quest in these quest lines, "In Love With Ponyville", requires her to be welcomed. She shares Twilight Sparkle's design.
Cost
Lovestruck costs 215

(previously 600

, then lowered to 360

, and then again to 215

, before being changed to 30

). You can also win Lovestruck from The Equestria Girls mini-game
Special Animation
Lovestruck has a special animation which consists of small red floating hearts around her, and while talking with other ponies she might throw a kiss.
Collection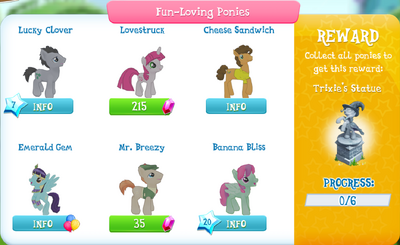 Gallery
Characters
‌
Mane Six (The Elements of Harmony)
Ponyville
Canterlot
Sweet Apple Acres
Crystal Empire
Non-playable
Removed
Unimplemented/Unreleased
Ad blocker interference detected!
Wikia is a free-to-use site that makes money from advertising. We have a modified experience for viewers using ad blockers

Wikia is not accessible if you've made further modifications. Remove the custom ad blocker rule(s) and the page will load as expected.