Limestone Pie

Limestone Pie in the store.

When Limestone Pie is spotted in a crowd, you know she's Pinkie's foal sister when things get super loud!
Playable?
Yes
Level
1
Town
Ponyville
Arrival bonus
65
House
The Pie Family Home
Minigame timer
220m (3h 40m)
Minigame timer skip
6
Cost/Prize
Event Prize
320
Royal Balloon Pop
Limestone Pie on the MLP:FiM wiki
Limestone Pie is a member of the Pie family who lives in The Pie Family's Home(as a mare) and The Pie Family Home(as a Filly) in Ponyville. She was added in the Bugfix update(for the filly) and Update 4.1(for the mare).
Limestone was offered as a time-limited character along with Jet Set, Neon Lights and Red Delicious on the 4th day of Pony Reunion Week in October 27–28, 2014, at a discount of 70% (39,600

).
Used to cost 132,000

but but switched to 320

Balloon Pop
Collection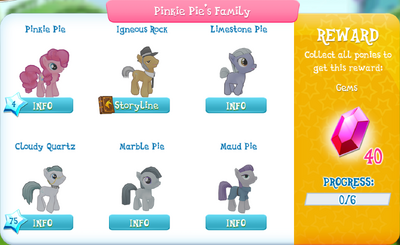 Gallery
Characters
‌
Mane Six (The Elements of Harmony)
Ponyville (309 Characters)
Filly Limestone Pie
Limestone Pie
Canterlot (136 Characters)
Sweet Apple Acres (93 Characters)
Crystal Empire (43 Characters)
Klugetown (39 Characters)
Non-playable
Removed
Unimplemented/Unreleased