Jet Set


Jet Set in the store.
Left: locked; right: unlocked.

Hoof-in-hoof with his wife Upper Crust, Jet Set attends the most extravagant parties in Equestria… but watch out if you're wearing something this polished pony doesn't like! He might just show you the door!
Playable?
Yes
Town
Canterlot
Cost/Prize
Event Prize
500
Royal Balloon Pop
Level
20
Arrival bonus
60
House
Upper Crust's Mansion
Minigame timer
90m(1h 30m)
Minigame timer skip
3
Jet Set on the MLP:FiM wiki
Jet Set is Upper Crust's husband who lives in Upper Crust's Mansion in Canterlot. He was added in an update on April 30, 2014.
Jet Set apparently appeared in the store for some Android players with a cost of 35

, along with Elite Pony, Prim Hemline, and Suri Polomare, around April 30–May 1, 2014, but subsequently disappeared or was removed. His cost was changed to 45

on the 4th day of Pony Reunion Week,
Jet Set was offered as a time-limited character on the weekend of May 16–18, 2014 along with Prim Hemline, at a discount of 6% (33

) and on the 4th day of Pony Reunion Week in October 27–28, 2014 along with Limestone Pie, Neon Lights and Red Delicious, at a discount of 40% (27

).
Balloon Pop
Collection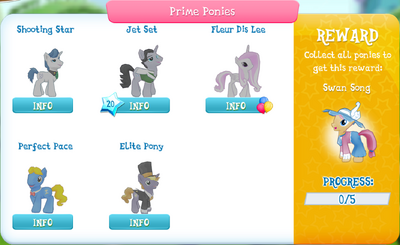 Characters
‌
Mane Six (The Elements of Harmony)
Ponyville
Canterlot
Sweet Apple Acres
Crystal Empire
Klugetown
Non-playable
Removed
Unimplemented/Unreleased
Ad blocker interference detected!
Wikia is a free-to-use site that makes money from advertising. We have a modified experience for viewers using ad blockers

Wikia is not accessible if you've made further modifications. Remove the custom ad blocker rule(s) and the page will load as expected.