Horticultural Pegasus

Horticultural Pegasus in the inventory.

This hardworking pony should keep his throat limber: He spends a good bit of his job yelling "TIMBER!"
Playable?
Yes
Town
Canterlot
Cost/Prize
Free

Level
VIP Level 2
Arrival bonus
60
House
Bright Unicorn's Home
Minigame timer
240m(4h)
Minigame timer skip
6
Horticultural Pegasus on the MLP:FiM wiki
Added in Update v2.8 and you can get him for free if you get to VIP Level 2.
Trivia
Horticultural Pegasus uses both butterfly wings and his pegasus wings during the Clear the Skies minigame.
Collections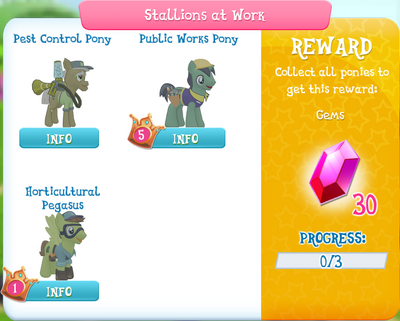 Characters
‌
Mane Six (The Elements of Harmony)
Ponyville
Canterlot
Sweet Apple Acres
Crystal Empire
Klugetown
Non-playable
Removed
Unimplemented/Unreleased