Hoity Toity


Hoity Toity in the store.
Left: locked; right: unlocked.

This fashionable pony knows a good dress when he sees one, especially the ones made by Rarity!
Playable?
Yes
Level
12
Town
Ponyville
Arrival bonus
30
House
Trendsetter's House
Minigame timer
90m(1h 30m)
Minigame timer skip
3
Cost/Prize
70
Equestria Girls
Hoity Toity on the MLP:FiM wiki
Hoity Toity is a very important pony in the field of fashion. He lives in Hoity Toity's House in Ponyville.
Collection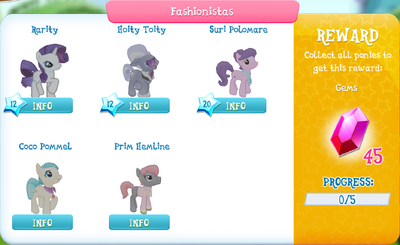 Characters
‌
Mane Six (The Elements of Harmony)
Ponyville
Canterlot
Sweet Apple Acres
Crystal Empire
Klugetown
Non-playable
Removed
Unimplemented/Unreleased