Frederick Horseshoepin

Frederick Horseshoepin in the inventory.

Part of a four-pony musical ensemble, Frederick Horseshoepin is a talented piano player that can be seen performing in Equestria's most sophisticated celebrations.
Playable?
Yes
Town
Canterlot
Cost/Prize
Royal Balloon Pop
Equestria Girls
Level
24
Arrival bonus
60
House
Classical Chateau
Minigame timer
95m(1h 35m)
Minigame timer skip
3
Quests

Quest tasks

"Pianist Pony"C
"Be Sharp"C
"Practice, Practice, Practice"C

Mentioned in quests

"Cash for Tunes"C
Frederick Horseshoepin on the MLP:FiM wiki
Frederick Horseshoepin is a piano playing pony who lives in Classical Chateau in Canterlot. His name is a reference to the famous Polish composer Frédéric Chopin.
He used to cost 18,000

but became an exclusive reward for Equestria Girls

Balloon Pop
Collection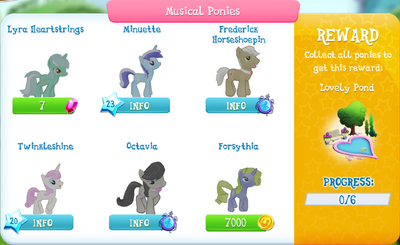 Characters
‌
Mane Six (The Elements of Harmony)
Ponyville
Canterlot
Sweet Apple Acres
Crystal Empire
Klugetown
Non-playable
Removed
Unimplemented/Unreleased
Ad blocker interference detected!
Wikia is a free-to-use site that makes money from advertising. We have a modified experience for viewers using ad blockers

Wikia is not accessible if you've made further modifications. Remove the custom ad blocker rule(s) and the page will load as expected.