Featherweight

Featherweight in the store.

This school-age colt is the editor and photographer of Ponyville's school paper.
Playable?
Yes
Town
Ponyville
Cost/Prize
30
Equestria Girls
Level
1
Arrival bonus
200
House
Log Cabin
Minigame timer
150m(2h 30m)
Minigame timer skip
4
Featherweight on the MLP:FiM wiki
Featherweight is a school aged pony added in the Hearts & Hooves Day update. He lives in the Log Cabin in Ponyville.
Cost
Featherweight costs 200

 when he was first added in the game but was dropped down to 40

in the Movie Time Update then lowered again to 30

) in the 2013 Christmas Update.
Collection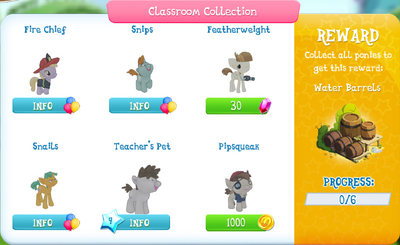 Characters
‌
Mane Six (The Elements of Harmony)
Ponyville
Canterlot
Sweet Apple Acres
Crystal Empire
Klugetown
Non-playable
Removed
Unimplemented/Unreleased