Emerald Green


Emerald Green in the store.
Left: locked; right: unlocked.

Emerald Green is Sweet Apple Acres' resident cider aficionado and is known for serving up the most delicious apple cider in all of Equestria!
Playable?
Yes
Level
10
Town
Sweet Apple Acres
Arrival bonus
100
House
Emerald Green's Hut
Minigame timer
280m (4h 40m)
Minigame timer skip
7
Cost/Prize
Event Prize
420
Royal Balloon Pop
Level Up Rewards
Emerald Green on the MLP:FiM wiki
Emerald Green is earth pony who lives in the Emerald Green's Hut in Sweet Apple Acres. He was added in the Everfree Forest update.
Balloon Pop
Collection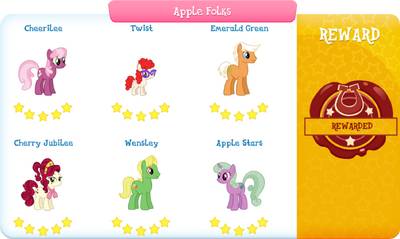 Gallery
Characters
‌
Mane Six (The Elements of Harmony)
Ponyville
Canterlot
Sweet Apple Acres
Crystal Empire
Klugetown
Non-playable
Removed
Unimplemented/Unreleased