Cloudy Quartz


Cloudy Quartz in the store.
Left: locked; right: unlocked.

Cloudy Quartz is the matter-of-fact mother of Pinkie Pie, Marble Pie, Maud Pie and Limestone Pie.
Playable?
Yes
Town
Ponyville
Cost/Prize
120

Level
75
Arrival bonus
70
House
The Pie Parents Home
Minigame timer
270m (4h 30m)
Minigame timer skip
7
Cloudy Quartz on the MLP:FiM wiki
Cloudy Quartz is Igneous Rock's wife and Pinkie Pie's, Marble Pie's, Maud Pie's, and Limestone Pie's mother. She lives with Igneous in The Pie Parents Home in Ponyville. She was added in the Sweet Apple Acres update.
She is referred to as Pinkiepies_Mom in the game files.
Collection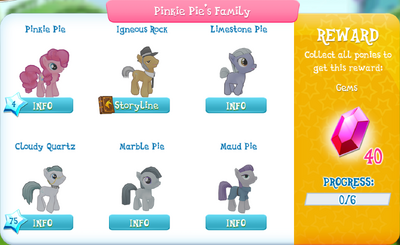 Characters
‌
Mane Six (The Elements of Harmony)
Ponyville
Canterlot
Sweet Apple Acres
Crystal Empire
Klugetown
Non-playable
Removed
Unimplemented/Unreleased