Cherry Jubilee


Cherry Jubilee in the store.
Left: locked; right: unlocked.

The owner of Cherry Hill Ranch in Dodge Junction, Cherry Jubilee sometimes needs a helping hoof when sorting cherries on her farm.
Playable?
Yes
Level
19
Town
Sweet Apple Acres
Arrival bonus
60
House
Cherry Farm
Minigame timer
150m(2h 30m)
Minigame timer skip
4
Cost/Prize
22,500
Friendship Balloon Pop
Equestria Girls
Involved in quests
"Cherry Picking"P
"The Ultimate Cherry"P
Cherry Jubilee on the MLP:FiM wiki
Cheery Jubilee owns Cherry Hill Ranch and lives at the Cherry Farm in Sweet Apple Acres. Prior to the Sweet Apple Acres update, she lived in Ponyville.
Cherry Jubilee was one of the characters available in the beta version of My Little Pony presented at My Little Pony Project 2012 New York, at a cost of 22,500

.
Balloon Pop
Collection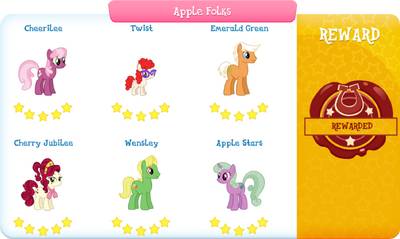 Gallery
Characters
‌
Mane Six (The Elements of Harmony)
Ponyville
Canterlot
Sweet Apple Acres
Crystal Empire
Klugetown
Non-playable
Removed
Unimplemented/Unreleased