Cherry Fizzy lives in Canterlot. He was added as a time-limited character along with Banana Bliss on April 30, 2014, and was available until May 8.
When Cherry Fizzy was first added, he cost 125,000

, but his price was changed to 50

the same day.
He can still be purchased for the bit price if Wifi is turned off.
Notes
↑

The Bit cost is applied when the Wifi is turned off.
Collection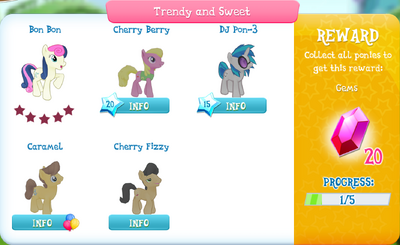 Characters
‌
Mane Six (The Elements of Harmony)
Ponyville
Canterlot
Sweet Apple Acres
Crystal Empire
Klugetown
Non-playable
Removed
Unimplemented/Unreleased
Ad blocker interference detected!
Wikia is a free-to-use site that makes money from advertising. We have a modified experience for viewers using ad blockers

Wikia is not accessible if you've made further modifications. Remove the custom ad blocker rule(s) and the page will load as expected.