Bulk Biceps


Bulk Biceps in the store.
Left: locked; right: unlocked.

Bulk Biceps is one super-strong, super-spry stallion! Can I get an "OH YEEEEAH"?!
Playable?
Yes
Level
14
Town
Ponyville
Arrival bonus
50
House
Gymnasium
Minigame timer
240m(4h)
Minigame timer skip
6
Cost/Prize
What's Hot Reward
350
Royal Balloon Pop
Bulk Biceps on the MLP:FiM wiki

Bulk Biceps is a character added in the version 2.4 update. He lives in the Gymnasium in Ponyville. He is also can be rewarded if you complete the ponies in any events and promos.
Balloon Pop
Collection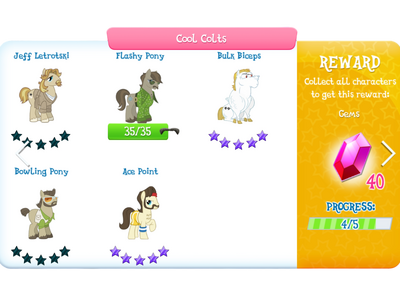 Gallery
Characters
‌
Mane Six (The Elements of Harmony)
Ponyville
Canterlot
Sweet Apple Acres
Crystal Empire
Klugetown
Non-playable
Removed
Unimplemented/Unreleased