Bon Bon

Bon Bon in the store.

This Earth pony's name is the French word for "candy," and she has three bows as her cutie mark.
Playable?
Yes
Level
1
Town
Ponyville
Arrival bonus
10
House
Bon Bon's House
Minigame timer
10m
Minigame timer skip
1
Cost/Prize
200

Involved in quests
"Put Your Hoof Down"P
"Applejack of My Eye"P
Bon Bon on the MLP:FiM wiki
Bon Bon or Sweetie Drops is the first pony available in the game aside from Twilight Sparkle. She lives in Bon Bon's House in Ponyville.
Bon Bon is a yellow-cream pony with three blue candy bows. Her eyes are turquoise, her mane and tail is curly pink and dark blue. She is a playable pony in the game.
Collection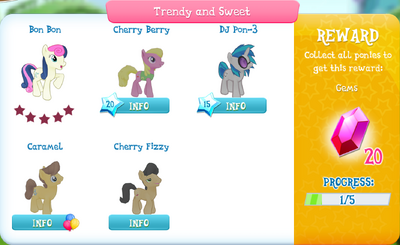 Characters
‌
Mane Six (The Elements of Harmony)
Ponyville
Canterlot
Sweet Apple Acres
Crystal Empire
Klugetown
Non-playable
Removed
Unimplemented/Unreleased