Blue Moon


Blue Moon in the store.
Left: locked; right: unlocked.

Blue Moon is a suave-suited unicorn that sparkles night and day as he trots across Equestria.
Playable?
Yes
Level
20
Town
Canterlot
Arrival bonus
90
House
Blue Moon's Home
Minigame timer
290m (4h 50m)
Minigame timer skip
8
Cost/Prize
Event Prize
260
Royal Balloon Pop
Blue Moon on the MLP:FiM wiki
Blue Moon is a unicorn who lives in Blue Moon's Home in Canterlot. He was added in the Bugfix update.
Blue was offered as a time-limited character along with Wensley in the 6th day of Pony Reunion Week in October 29–30, 2014, at a discount of 70% (129,900

). He now costs 260

Balloon Pop
Collection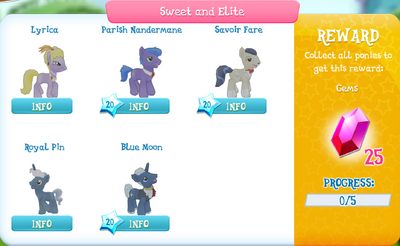 Characters
‌
Mane Six (The Elements of Harmony)
Ponyville
Canterlot
Sweet Apple Acres
Crystal Empire
Klugetown
Non-playable
Removed
Unimplemented/Unreleased