Blue Moon


Blue Moon in the store.
Left: locked; right: unlocked.

Blue Moon is a suave-suited unicorn that sparkles night and day as he trots across Equestria.
Playable?
Yes
Town
Canterlot
Cost/Prize
Event Prize
260
Royal Balloon Pop
Level
20
Arrival bonus
90
House
Blue Moon's Home
Minigame timer
290m (4h 50m)
Minigame timer skip
8
Blue Moon on the MLP:FiM wiki
Blue Moon is a unicorn who lives in Blue Moon's Home in Canterlot. He was added in the Bugfix update.
Blue was offered as a time-limited character along with Wensley in the 6th day of Pony Reunion Week in October 29–30, 2014, at a discount of 70% (129,900

). He now costs 260

Balloon Pop
Collection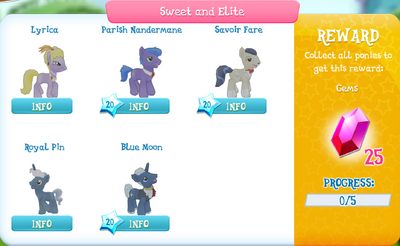 Characters
‌
Mane Six (The Elements of Harmony)
Ponyville
Canterlot
Sweet Apple Acres
Crystal Empire
Klugetown
Non-playable
Removed
Unimplemented/Unreleased