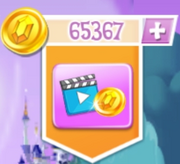 Bits

are the main currency in My Little Pony.
Bits can be gained in a big variety of ways, but the main source of income is collecting products from Shops.

Bits are used for:
Buying a variety of stores, decor and ponies
Removing obstacles (200-16000   depending on the obstacle)
Purchasing land expansions (though this can also be done with gems)

Some quests will also require you to earn a number of 

 but this won't consume them.
Resources

‌
Ingredients
Ad blocker interference detected!
Wikia is a free-to-use site that makes money from advertising. We have a modified experience for viewers using ad blockers

Wikia is not accessible if you've made further modifications. Remove the custom ad blocker rule(s) and the page will load as expected.