Berryshine


Berryshine in the store.
Left: locked; right: unlocked.

A lover of all delicious drinks that feature a berry twist, Berry Punch is an earth pony who's earned her name!
Playable?
Yes
Level
21
Town
Sweet Apple Acres
Arrival bonus
70
House
Berry Punch's House
Minigame timer
125m (2h 5m)
Minigame timer skip
4
Cost/Prize
Event Reward
200
Royal Balloon Pop
Berryshine on the MLP:FiM wiki
Berry Punch is a pony who lives in Berry Punch's House in Sweet Apple Acres. She was available as reward from sapphire-priced Balloon Pop game mode exclusive to Battle with Dragons event (as of May 2015).
Balloon Pop
Collection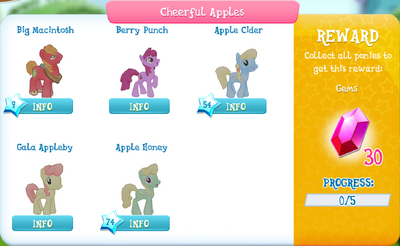 Gallery
Characters
‌
Mane Six (The Elements of Harmony)
Ponyville
Canterlot
Sweet Apple Acres
Crystal Empire
Klugetown
Non-playable
Removed
Unimplemented/Unreleased