Babs Seed


Babs Seed in the store.
Left: locked; right: unlocked.

A cousin of Apple Bloom's, Babs Seed has learned a valuable lesson about friendship and is thinking about setting up a Manehattan branch of the Cutie Mark Crusaders.
Playable?
Yes
Level
10
Town
Sweet Apple Acres
Arrival bonus
100
House
Cutie Mark Crusaders Clubhouse
Minigame timer
160m(2h 40m)
Minigame timer skip
4
Cost/Prize
Event Prize
450

Babs Seed on the MLP:FiM wiki
Babs Seed is Apple Bloom's cousin who lives in the Cutie Mark Crusaders Clubhouse in Sweet Apple Acres. She was added in the Sweet Apple Acres update. She is the younger sister of Sunflower.
Collection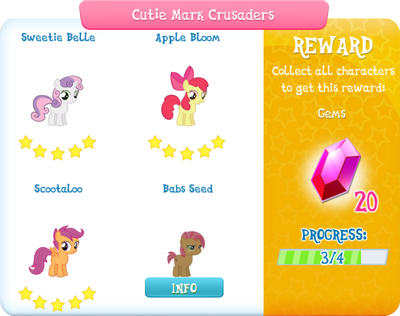 Gallery
Characters
‌
Mane Six (The Elements of Harmony)
Ponyville (309 Characters)
Canterlot (136 Characters)
Sweet Apple Acres (93 Characters)
Crystal Empire (43 Characters)
Klugetown (40 Characters)
Non-playable
Removed
Unimplemented/Unreleased