Perfect Pie


Perfect Pie in the store.
Left: locked; right: unlocked.

With a name like Apple Pie, it's no surprise this pony's as sweet as they come!
Playable?
Yes
Level
10
Town
Sweet Apple Acres
Arrival bonus
65
House
Sweet Apple Cottage
Minigame timer
110m(1h 50m)
Minigame timer skip
3
Cost/Prize
1,000 [n 2]
Unlock from Crystal Mine Game at 58000 points [n 1]
Level Up Rewards
Perfect Pie on the MLP:FiM wiki
Apple Pie is a member of the Apple family who lives in Sweet Apple Acres. She was added in the Sweet Apple Acres update.
Notes
↑ The Bit cost is applied if the player already passed 58000 points prior to the Sweet Apple Acres update
↑

Apple Pie must be unlocked in the Crystal Mine minigame before she can be purchased in the store.
Collection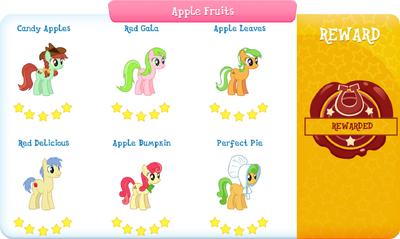 Characters
‌
Mane Six (The Elements of Harmony)
Ponyville
Canterlot
Sweet Apple Acres
Crystal Empire
Klugetown
Non-playable
Removed
Unimplemented/Unreleased