Apple Honey


Apple Honey in the store.
Left: locked; right: unlocked.

Some ponies are fast, some ponies are funny, but when it comes to cool -- you can't beat Apple Honey!
Playable?
Yes
Level
74
Town
Sweet Apple Acres
Arrival bonus
80
House
Apple Honey's Home
Minigame timer
320m (5h 20m)
Minigame timer skip
8
Cost/Prize
650,000

Level Up Rewards
Apple Honey on the MLP:FiM wiki
Apple Honey is a member of the Apple family who lives in Apple Honey's Home in Sweet Apple Acres. She was added in the Bugfix update.
Collection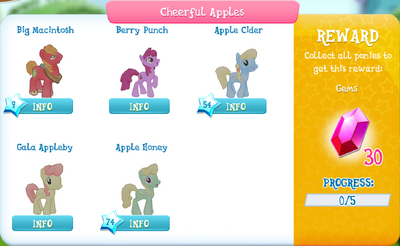 Characters
‌
Mane Six (The Elements of Harmony)
Ponyville (309 Characters)
Canterlot (136 Characters)
Sweet Apple Acres (93 Characters)
Crystal Empire (43 Characters)
Klugetown (40 Characters)
Non-playable
Removed
Unimplemented/Unreleased