Ace Point


Ace Point in the store.
Left: locked; right: unlocked.

Sporting one of Equestria's most famous moustaches, there's no social function Ace can't face!
Playable?
Yes
Level
15
Town
Ponyville
Arrival bonus
70
House
The Ponyville Moustache Club
Minigame timer
300m (5h)
Minigame timer skip
7
Cost/Prize
Event prize
500
Royal Balloon Pop
Ace Point on the MLP:FiM wiki
Ace is a tennis pony who lives in The Ponyville Moustache Club in Ponyville. He was added in the version 2.3 update as a reward for scoring 1000 points in Battle with Dragons boss event. He reappeared on sale since then.
Balloon Pop
Collection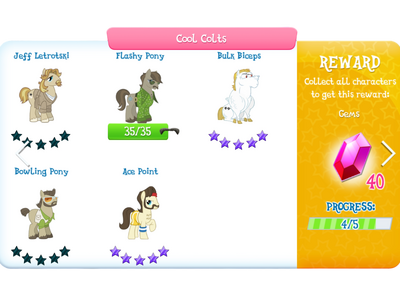 Gallery
Characters
‌
Mane Six (The Elements of Harmony)
Ponyville
Canterlot
Sweet Apple Acres
Crystal Empire
Klugetown
Non-playable
Removed
Unimplemented/Unreleased